N U T R I T I O N
Our bodies are the temple of the Holy Spirit
We want to teach healthy habits. You pack your child's lunch daily; we're not a hot lunch facility. Fruits and veggies only for snacks.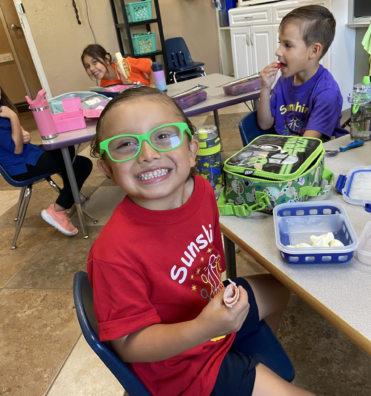 H O W W E D O
Lunches
Since we are a Brown Bag Facility, you will need to provide a lunch for children who stay after a.m. classes, or if they are in
the Elementary. We ask that you send a lunch that will not require to be heated in a microwave, but that is
ready to eat. Send water to drink for lunch. No fruit juice or milk allowed. Flavored packets may not be added to the
water. Please note that we never serve sodas to the children at any time. Sodas are not allowed at Sunshine during school hours. (The carbonation of sodas contains phosphates that rob the body of calcium). We see health as a stewardship issue. God has blessed us with a body and will hold us accountable for how we take care of it. Because fresh fruits and veggies are better brain builders than sweets, salts, and processed flour products, we encourage you to include more of the healthy items in your child's lunch. Leave cakes and other sweets out of their lunch box. Cookies, crackers, and chips with a minimum of 2 grams of fiber are acceptable. Lunch containers may not have "media" characters.
We are a PEANUT FREE ENVIRONMENT
We have students who are extremely allergic to peanuts. Therefore, do not bring
anything to school that has peanuts in it.
If your child forgets lunch, we will provide one and charge your account $10. If you remember and bring your child's
lunch by 10 am, your account will not be charged.
R E C O M E N D E D
Food Guidelines

• Cereal-minimum of 4 grams of Fiber/Serving
• Bread-minimum of 2 grams of fiber. (Sourdough Bread is a healthier choice than anything with wheat.)
• Granola bars-Minimum of 2 grams of fiber. (Anything less than that needs to be considered a candy bar.)
• Yogurt without High Fructose Corn Syrup, or Aspartame (this rules out most "light yogurts") is a good choice.
• No Fruit Rollups or Fruit gummies of any kind. Sugar and no fiber equals empty calories and no nutrition.
• Cookies, Chips, Crackers, and Granola bars with a minimum of 2 grams of fiber are acceptable.
• Boiled eggs and certain cheeses are good protein sources.
• Nuts other than peanuts also provide good protein.
• Animal Fat (Lard) is healthier than vegetable oil or canola oil. The body will recognize it as a REAL fat and bring it to your joints. Fake fats (margarine, etc.) cannot do the work of real fat.
• Oils that are good for the body and brain are Coconut, Olive, Grapeseed, Avocado, and Real Butter.
• Extra Virgin Olive Oil and Avocados are good for you.
• For frying, Organic Coconut, Palm, or Grapeseed Oil are best.
• Never use Styrofoam to heat food in the microwave. It releases carcinogens in the food.
• Do not freeze water in plastic water bottles, it breaks down the plastic and dioxins are released into the water.
• Nitrates are toxic to your body. Limit lunch meats, hotdogs, smoked meats, etc.
• Fresh, raw, or lightly steamed are best.
• Sea Salt is good for the body. Regular table salt is not. It is a byproduct of manufacturing.
• Butter is healthier than margarine.

Avoid:

– High Fructose Corn Syrup
– Bad Fats (Omega 6- Safflower, Sunflower, Canola, Vegetable and Corn Oil)
– Aspartame